The Shearwater Teric is an intuitive, full colour, high resolution AMOLED dive watch computer. With a high degree of customization, the Shearwater Teric brings divers a timepiece and dive computer in watch form with unprecedented capabilities never seen before.
Out of the box, the Teric is ready for Air, Nitrox, Trimix and CCR diving and is the only watch for all your diving needs. From Open Water Diver to Technical Diver, the Teric offers a feature set not seen before and even has some features not seen in it's bigger sibling the Perdix AI.
Intuitive controls and menu navigation make remembering a confusing set of button pushes for other watch computers. A user customisable function shortcut button means what's important to your dive is there ready.
Add up to two wireless transmitters to monitor your gas remaining. Transmitters are sold separately, but are the same as used with the Perdix AI. Any Oceanic, Aqualung or Tusa transmitter will also work.
Wireless fast charging using the enclosed charger or any Qi charging mat offers over 30 hours of dive time at 100% brightness which makes the Teric last the distance. No need to worry about costly battery changes every few months or being let down half way through your dive trip.
Connect to the Shearwater Cloud on any device (ios, android, mac or windows) by bluetooth to download your dives and seamlessly sync them across all your devices. Firmware updates are as simple as a tap, ensuring your computer has the latest features updated.
The Teric offers all the great features that divers love in the Shearwater Perdix and more:
Learn more at http://www.shearwater.com/products/teric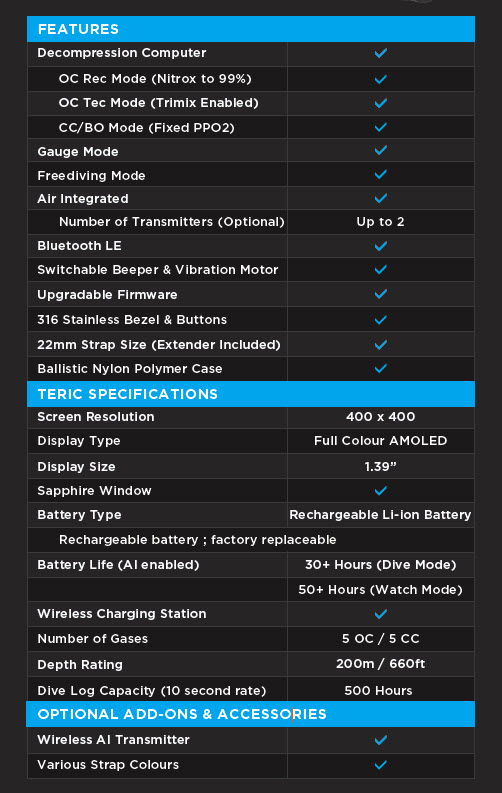 About Shearwater
Shearwater Research Inc is a Canadian dive computer maker that manufacturers from it's factory in Vancouver.. Regarded by divers as having no equal, a Shearwater diver from open water to rebreather can rest assured. You bought the best.