The ISC Pathfinder rebreather is the next generation CCR from one of the most respected leaders in rebreather technology, Inner Space Systems Corp and follows in tradition of the highly regarded Megalodon. Daren Marshall our Blue Label Pathfinder instructor is able to offer TDI training on this outstanding rebreather. TDI are the leader in rebreather training programs.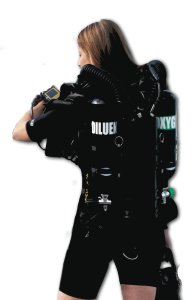 The Pathfinder offers a relatively lightweight solution to the travelling diver. Our divers generally find that the system, packs into carry on luggage dimensions but sacrifices none of the legendary ISC build quality and robustness. Our team has taken the Pathfinder to some of the most inhospitible cave and open water environments and the system continues to perform.
The electronics within the Pathfinder are truly plug and play and each component may be replaced if necessary by the user in the field. This makes the Pathfinder an outstanding option for expeditions.
Modular, the Pathfinder shares breathing loop, BOV and lung options with the Megaldon range and many divers appreciate this commonality. It also provides options for those CCR divers wanting to operate both a Meg and a Pathfinder or change rebreathers from one to the other in the future.
CE Rated to 60m with trimix capibility out of the box using the high end ISC radial scrubber the Pathfinder is also able to accept Micropore Extendair cartridges for those who prefer a packed solution when using the option adaptor.
The Pathfinder is the next evolutionary step in rebreather electronic systems using a controller area network system based upon proven ISO standards developed for the automotive and aeronautics industries. The unique ISCan system enables all the electronics to communicate and operate independently from one another.
PATHFINDER FAQ
How much is the Pathfinder and availability ?
The Pathfinder is not a mass consumer product and is built to order to exacting standards. As such there is usually a lead time of a few weeks depending on parts availability and workshop scheduling. ISC have a long tradition of valuing quality over a sale. The cost of the rebreather varies with build specification and we can prepare a quote. As a rough guideline one can expect to pay around $9,000 AUD for a Pathfinder landed as a base package.
How much is training and to what level ?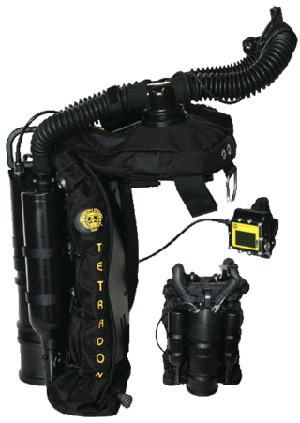 We offer the TDI Pathfinder Air Diluent Diver program from here in Brisbane. Further training to TDI CCR Decompression Procedures & TDI Mixed Gas Diver levels are available by appointment locally or at the Blue Label Diving Facility in Thailand. They additionally offer specialised CCR Cave Diver training where the Pathfinder has proven itself highly capable. Initial Pathfinder training is $2,000 as an all inclusive price of gear rental, sorb, boats, gas, bailouts, manuals, certs. We prefer to offer a complete all in one package rather than leave an open ended training cost with additional items. The initial training takes 5 days and will be usually one on one with your instructor and we'll schedule according to convenience.
What support is offered locally for the Pathfinder ?
Whilst we offer basic spare parts and instructional support, we're fortunate to have one of the top ISC rebreather technicians and Repair Centres locally in Cairns. Lance Robb has provided the Australian and Pacific Region with the best support for the ISC range coupled with years of factory training and experience. All this means if you have any issues with your Pathfinder, this can be dealt with onshore rather than a costly transportation overseas.
Want to know more ? Email Daren directly for more information